Terms Of Internet Service

Absolute Internet, Inc. (ABSOLUTE.NET) agrees to provide Internet Services to the Account Holder (Customer) under the following terms and conditions. The use by Customer, or anyone else with the knowledge or permission of Customer, of any computer connected to Absolute Internet, Inc.'s network constitutes acceptance and agreement to these terms by Customer. Service may be discontinued by either party, and the terms and conditions of use are subject to change, both as provided below.

1. Limitation of Liability.

1.1. Because the very nature of Internet communication is subject to many conditions beyond the control of ABSOLUTE.NET, ABSOLUTE.NET makes no warranties, expressed or implied, for the services it provides. ABSOLUTE.NET also disclaims any warranty of fitness for a particular purpose or warranty of merchantability.

1.2 ABSOLUTE.NET will not be responsible for any direct, indirect, or consequential damages suffered by the Customer due to a poor or unreliable connection or lack of connection to its network. It is the responsibility of Customer to notify ABSOLUTE.NET promptly if there are problems with the service, in which case ABSOLUTE.NET will use all reasonable efforts to correct the situation, if it is within its control. Other damages for which ABSOLUTE.NET shall not be responsible include, but are not limited to, loss of data resulting from delays, non-deliveries, mis-deliveries, or service interruptions or delays caused for any reason. Further, ABSOLUTE.NET is not responsible for Customer's negligence or lack of understanding of the proper operation of the Internet or Customer's own computer hardware or software characteristics.

1.3. Data stored on ABSOLUTE.NET servers is intended for presentation, and is considered redundant storage only. ABSOLUTE.NET servers should not be used as the primary or archival storage for any information. ABSOLUTE.NET accepts no responsibility for loss or damage to information stored by the Customer on ABSOLUTE.NET servers, for any reason including, but not limited to, hardware failure, software failure, or inadvertent deletion by ABSOLUTE.NET, the Customer, or by a third party.

2. Indemnification; Lawful Use.

2.1. Customer agrees to indemnify and hold ABSOLUTE.NET harmless from any third party claims that are the result of the use, non-use, or other legal issues arising from the Customer's account and Internet services contracted for by Customer. Such indemnification shall include attorneys' fees and court costs. Without limiting the generality of the foregoing, allegations of infringement, defamation, breach of contract, theft of trade secrets, unfair competition, illegal activities, or other similar causes of action, are included in this Customer indemnification of ABSOLUTE.NET.

2.2. Customer agrees to be responsible for all costs incurred by ABSOLUTE.NET due to the Customer's violation of any portion of this Agreement. These costs include, but are not limited to service costs, reprogramming costs, fines, court costs, and attorney's fees.

2.3. The services provided by ABSOLUTE.NET to Customer may be used for lawful purposes only. Transmission or storage of any material or contents in violation of any applicable Federal, State, or Local law is prohibited. This includes, but is not limited to, use or distribution of copyrighted material without permission, improper use of trademarks, certain types of pornography, or material protected by trade secrets, by Export Control laws, or by any other statute. ABSOLUTE.NET shall not be responsible for any loss or damages incurred by transmission of illegal material through its network by Customer or persons using the account or Internet connection.

2.4. ABSOLUTE.NET does not routinely monitor nor censor the content of any information passing through or stored on its Internet servers, except for occasional diagnostic or maintenance purposes. The Customer assumes all responsibility for limiting access to content which they do not wish to have available through or with their account; including but not limited to content that may not be legally suitable for minors accessing the Internet through the Customer's account. Customer will not permit minors to use the account for unsuitable content.

2.5. ABSOLUTE.NET will make reasonable efforts to maintain the confidentiality of the Customer's account information and information stored on its network servers in the form of email or other data files. ABSOLUTE.NET will not be responsible for damages of any kind incurred by the disclosure of this information to unauthorized third parties due to electronic or physical break-ins, improper disclosure by its employees in violation of ABSOLUTE.NET rules for its employees, improper security configuration by ABSOLUTE.NET or the Customer, or any other inadvertent disclosure of such information. ABSOLUTE.NET will, however, cooperate fully with law enforcement officials conducting investigations, when presented with legal authorization to release information.

3. Establishing Accounts, Billing & Payment Procedures

3.1. Accounts for persons under the age of 18 must be authorized by a parent or legal guardian who shall be responsible for payment and insuring compliance with the terms and conditions of this Agreement by all users. The authorizing person will be considered the Customer for all purposes of this agreement.

3.2. ABSOLUTE.NET accounts are invoiced on the monthly anniversary of the start up date for services, with a billing period beginning in that month. All non-usage-based services are invoiced in advance. Services terminated before the end of a billing period are billed at the entire monthly rate. The requirement to pay for services shall continue until a written request for termination is received from the account holder and acknowledged by ABSOLUTE.NET. Unless otherwise noted, all services have a minimum duration of one calendar month or 30 successive days. Non-use or abandonment of service contracted for will not result in termination of that service, and Customer shall continue to be liable for the cost of such services. Notifications of, or requests for, service changes on the invoice stub or included with a payment are not considered valid, and will not be processed. Please make such requests by email addressed to: "billing@Absolute.Net" or U.S. Mail to "Service Changes, Absolute Internet, Inc., 1780 C Oak St., Torrance, CA 90501".

3.3. Invoices for services that have a debit balance are mailed via the US Postal Service to all account holders not paying automatically by credit card. Payment of the full amount invoiced is due by the 1st of the following month. Invoices not paid in full by the 10th of the month are subject to a 10% monthly service fee on the unpaid invoice balance. If an account is more than 10 days past due, the services associated with the account may be suspended by ABSOLUTE.NET, without further notice, and a reactivation fee of not less than $10 will be charged as a condition to restoration of service.

3.4. If a Credit Card number has been supplied for account payment, it will be charged automatically whenever a debit balance exists on the account. ABSOLUTE.NET will continue to use the credit card for account payments until a written request from the account for removal or substitution of the card has been received from the Customer and acknowledged by ABSOLUTE.NET. It is the Customer's responsibility to notify ABSOLUTE.NET promptly of any changes in the credit card information, including holder's name, account number and expiration date. Credit cards may be updated online using the secure form at http://www.Absolute.Net/utils/. Credit card updates by email will not be accepted. If a charge to a credit card is declined, a message will be sent by email to the address associated with the account. If a credit card charge is declined twice over a 10-day period, the services associated with the account will be suspended, and a reactivation fee of at least $10 will apply.

3.5. Returned or "bounced" checks are subject to a processing fee of $20 each or 20% of the value of the check, whichever is greater, for each time the check is refused by our bank (maximum twice per check).

3.6. Accounts more than 60 days past due may be referred to a collection agency by ABSOLUTE.NET without further notice to Customer.

3.7. Overpayment of account balance will be credited to the account. A refund will be provided only if the account has been closed and a credit $5 or more exists, and will be issued in the same manner that it was paid (check or credit card).

3.8. ABSOLUTE.NET will provide Customer 30 days written notice of changes in pricing and/or terms of subscribed services. Prices for services shall be as provided, on the "Schedule of Charges for Services of ABSOLUTE.NET" or as defined on Service Agreement.

3.9. ABSOLUTE.NET reserves the right to terminate the Customer's account, upon written notice, or no notice in an emergency, at any time for any reason including reasons not specified in this Agreement.

4. Acceptable Use

4.1. To protect itself, its customers, and the general public, ABSOLUTE.NET reserves the right to enforce the following standards of Appropriate Use of the Internet. A violation of any of any these standards will result, in the sole discretion of ABSOLUTE.NET, in either an email warning to the Customer or immediate suspension and/or termination of the account. Each Customer is responsible for all activity occurring under or on the services provided to Customer, whether or not Customer is directly in control of the service being used at the time a violation of this Agreement occurs. This responsibility is non-delegable.

4.2. The following activities are considered a violation of this agreement. A service fee of not less than $50 will be charged to the Customer for each incident:

4.2.1. Sending of Unsolicited Bulk Email, ("UBE", "UCE", or "Spam"). UBE is defined as sending unsolicited email to multiple Internet email addresses through an ABSOLUTE.NET connection, or using a ABSOLUTE.NET email address in any manner in the content of unsolicited email sent through other Internet providers or other means. Prohibition of unsolicited email shall apply regardless of content of the message or whether or not it is for commercial purposes.

4.2.2. Any form of activity intended to interfere with or deny service to other Internet users or sites.

4.2.3. Any attempt to gain unauthorized access to computers connected to the Internet, whether on ABSOLUTE.NET or other systems. This includes performing unauthorized security scans or probes of computers or networks connected to the Internet.

4.2.4. Any activity that causes excessive loads on ABSOLUTE.NET's servers or network connections, such as bulk mailings of more than 100 addresses.

4.2.5. Any other activity that ABSOLUTE.NET deems inappropriate, illegal or improper use of its services.

5. Newsgroups and Services.

5.1. Users of any Usenet News service supplied by ABSOLUTE.NET though an outside news provider via the address "news.Absolute.Net" agree to the terms under Exhibit A at the URL http://www.remarq.com/corporate/disclaimer.html. In addition,

5.1.1 The content of all discussion groups, including without limitation the descriptions for discussion groups and the content within a specific article, is provided by and the responsibility of the creator of the discussion group or the person posting an article. ABSOLUTE.NET has NO responsibility for such content and merely providing access to such content as a service to you.

5.1.2 By its very nature, Usenet groups and the Internet in general may carry offensive, harmful, inaccurate or otherwise inappropriate material, or in some cases, postings that have been mislabeled or are otherwise deceptive. ABSOLUTE.NET expects that you will use caution and common sense and exercise proper judgment when using Usenet and other Internet services.

6. Jurisdiction; Venue; Applicable Law; Titles. This Agreement shall be governed by and subject to California law and federal law, where applicable, regardless of where the Customer resides. Any legal action brought by a party hereto shall be in the civil courts of Los Angeles County, California, or in the U.S. District Court for the Southern District of California (Los Angeles Division), and each consents to jurisdiction, venue and service in said courts. All such actions shall be brought within one (1) year of the event causing the claim, regardless of longer statutes, if any, for certain events. The titles on paragraphs are not part of the Agreement, and are for convenience only.

7. Amendments and Changes. The provisions of this Agreement may not be changed orally by anyone. Upon application to the management of ABSOLUTE.NET, certain rules and regulations may be waived in writing for a specific purpose and for a limited time. Failure to enforce a provision of the Agreement is not a waiver of the provision. ABSOLUTE.NET reserves the right to change the conditions of service, from time to time, upon at least thirty (30) days notice, except in emergencies where the notice will be twenty-four (24) hours where it notifies its Customers by email.

/* The add's dementions must NOT exceed 160 pixels wide. ** ** Example: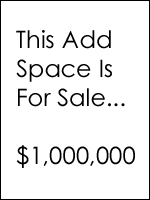 This is a Test Add. */ ?>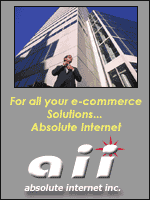 Click Here For More Info.